Products
Bouwleges-App
We must pay a fee when applying for an environmental permit. Municipalities have the freedom to determine how the fee regulation is drawn up. It is therefore not immediately clear to applicants how many fees they have to pay for their application.
Bouwleges-App
---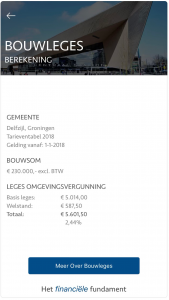 Do you want to be sure that you have paid the correct amount in fees? Then you can use the Bouwleges app to find out how many fees you have to pay for an environmental permit in a certain municipality. With the App you can easily see with a few clicks how much your environmental permit costs.
Download the app for Iphone or Android below.
Other apps from IGG Building Economy
For questions or more information you can of course always contact IGG.
We are happy to offer you the best construction-economic advice.
See project
Expansion Metro 'Oostlijn'
Amsterdam, the Netherlands