Products
BouwkostenIndex-App
Trends in construction are important for the feasibility of projects. If prices rise rapidly, this must be taken into account in the business case.
Construction costs Index figures within an App
---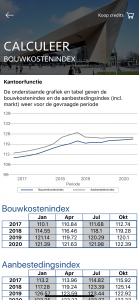 Do you want to be sure that you always have the most up-to-date index numbers for construction? The Construction Costs Index app from IGG makes index numbers immediately accessible to you. The application gives you direct insight into all index numbers for a large number of building types, wherever and whenever you want to view them.
Download the app for Iphone or Android below:
Other apps from IGG Building Economy
For questions or more information you can of course always contact IGG.
We are happy to offer you the best construction-economic advice.
See project
Expansion Metro 'Oostlijn'
Amsterdam, the Netherlands