Products
Bouwkosten-App
All construction costs figures in an easy to use app.
Bouwkosten-App
---
Do you want to be sure that you always have the most up-to-date construction cost information? The Construction Costs app from IGG makes key figures, index numbers and other important construction-economic information more accessible than ever before. The application gives you direct insight into all construction costs, key figures and concepts that are relevant to your project - wherever and whenever you may need them.
Thanks to the Construction Costs app from IGG, effective cost control in the construction sector becomes even easier. Curious about what the app can do for you? We are happy to give you an overview of the options.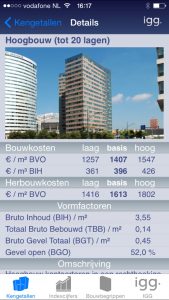 Always access to current construction cost information
IGG has been specializing since 1988 in offering integrated construction cost advice and management. We understand better than anyone how important it is that you have access to recent information for your construction project; the sharper your insight into the market, the better you will be able to control your costs.That is why we have decided to combine our knowledge and expertise with the advantages of modern, mobile technology.
With our Construction costs app you have access to the information you need everywhere; the app is linked to the Building Cost Compass and is therefore always up to date.In addition, all cost index figures can be viewed free of charge through the Construction Costs app up to a rounding level of € 25.
If you have a subscription to the Building Cost Compass, you will get an even more detailed and detailed insight into the building cost information you need via the app.
Functionalities of the app
IGG follows the developments in the construction economy with great attention and precision. Over the years we have been able to gather a lot of information about the construction costs of various types of buildings and building types. You already had access to these insights via online tools such as BouwkostenKompas and BouwkostenIndex; the Construction Costs App makes this information even more accessible. From your smartphone you can continuously access the most recent index figures and key figures from the construction industry, wherever you are at that moment. In this way you always have the correct information at hand and you can easily keep abreast of changes in the area of construction costs.
Meer dan 500 kengetallen van een uitgebreid overzicht van bouwtypen;
Indexcijfers voor de gebouwcategorieën Woningbouw, Utiliteitsbouw, Parkeren, GWW en Sloop van 2000 t/m heden;
Meer dan 13.000 Nederlandse bouwbegrippen, waarvan vele ook in het Engels en de meervoudsvorm beschikbaar zijn.
The structured presentation of the Construction Costs app ensures that all figures remain clear and comprehensible.
Get started immediately with our Construction Costs app?
You can not only download the Construction Costs App for free; the use of the app itself is also free in many cases. All cost indicators in the app can be viewed for free up to a rounding level of € 25. This way you can easily check the construction costs of a project on location and make better decisions in the context of cost control.
Download the IGG Building costs app
Other apps from IGG Building Economy
For questions or more information you can of course always contact IGG.
We are happy to offer you the best construction-economic advice.
See project
Expansion Metro 'Oostlijn'
Amsterdam, the Netherlands